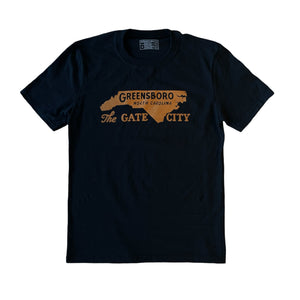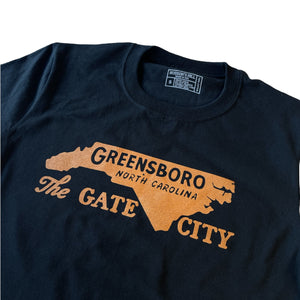 This design is a reproduction from a vintage vanity license plate we found. If you want to pick up the combo t-shirt and vanity plate, check out the plate here. 
Black, classic fit, USA made 6 oz 100% ring spun cotton t-shirt, made in Tennessee and printed by us here in The Gate City.
Greensboro donned the nickname "The Gate City" back in 1891 when due to booming industry the city was seeing an average of 60 trains per day coming through the depot downtown. The nickname is apt for two reasons: first because Greensboro was (as still is to this day) the "Gateway to the West and the South" but the second reason it's a poignant nickname is that because the railroad tracks run directly through downtown, all of the RR crossing gates would close at the same time. You can imagine 60+ trains coming through would cause quite a traffic for both pedestrians and vehicles alike!