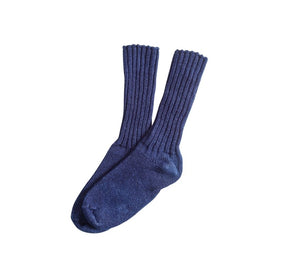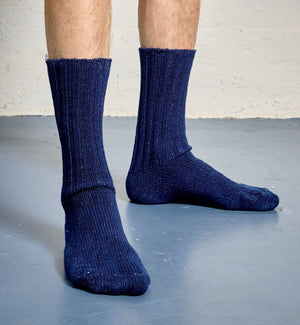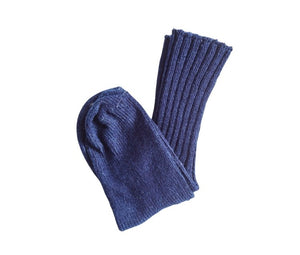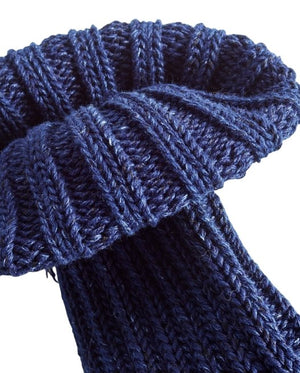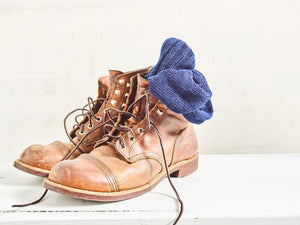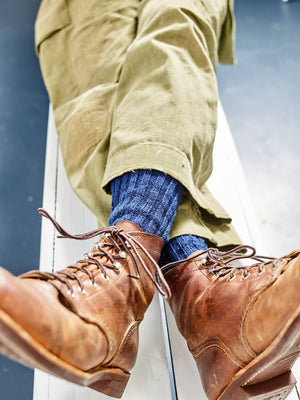 Summary
• 2 weights to choose from: 6-Ply midweight, or 7-ply heavyweight
• Limited supply! Only 100 pairs of each weight were made.
• One size fits most (mens 7-12)
Details
Our Warp Ragg Sock is constructed from 20/2 yarns that were pad-foam dyed indigo at the Fiber & Biopolymer Institute at Texas Tech on a sample machine during testing for a state-of-the-art dye range that was being developed over the last few years, which was funded by WAL-MART's Made in USA Initiative.  These yarns would typically be used for warp yarns in denim cloth construction. 
Here in NC, we took these yarns and had them plied together with a twisting company, and then over to be knit on double-cylinder sock knitting machines, a subtle nod to our state's hosiery manufacturing prowess.  A second nod to history, this time our city's rich denim history, we decided to develop these "denim socks" in two different weights, to create offerings that all denim heads can appreciate. The 6-Ply version being our "midweight" style, or three-season weight, just like a pair of 12oz dungarees and the 7-Ply version being our "heavyweight" style, or winter weight, just like a pair of 15oz dungarees.. 
This sock will need to be soaked or washed several times before wearing if you are worried about it crocking, the term used to describe the bleeding of the indigo dye onto surfaces it abrades.  To repeat, THIS ITEM WILL BLEED IF NOT SOAKED SEVERAL TIMES OR WASHED BEFORE WEARING.  But, just like your favorite pair of jeans, they will fade with use, become softer with every day's wear, and hopefully one day become your favorite pair that will keep getting darned and darned just like an old pair of bib overalls.
Only 100 pairs made per weight; each pair is individually numbered. One size fits most (mens 7-12).