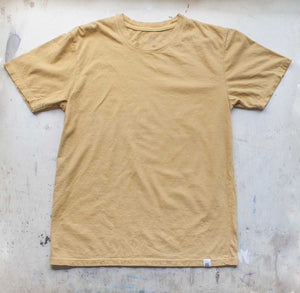 Citrine:
These limited-edition colors were made in collaboration with Seattle-based Botanical Colors using dyes derived entirely from plants.   Dyed using pomegranate rind.
100% North Carolina cotton shows how vivid 100% plant-derived natural dye can be. On our incredibly soft, durable, made-in-the-Carolinas shirt, this is a piece of clothing that is bold and mellow at the same time.

Classic, tailored fit
Unisex style
100% ringspun cotton grown in North Carolina
5.5 oz
Garment dyed and pre-shrunk
Made in North Carolina and South Carolina, USA
QR code allows you to track every step of your shirt's making
About the North Carolina Cotton T-Shirt

The North Carolina Cotton T-shirt is a super-soft, long lasting, and meticulously constructed classic shirt you'll want to wear every day. But this shirt isn't just about exceptional quality; it's about celebrating the uniqueness of our state and textile history.

First, we sourced cotton directly from the fields of third-generation farmer Andrew Burleson in New London, NC. We then had that cotton made into shirts in North and South Carolina—within a 250-mile radius of Solid State Clothing's home in Burlington, NC. A unique QR code label on each shirt even lets you track the making, from dirt to shirt, by providing information on each business involved in the process.
Note: Naturally dyed clothing may fade faster than synthetically dyed clothing. We recommend washing with a mild detergent by hand or on the delicate setting of your washing machine.