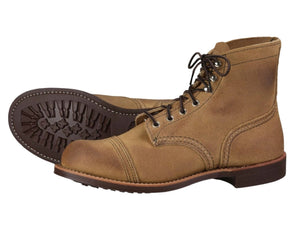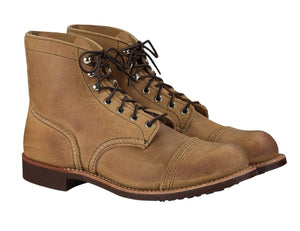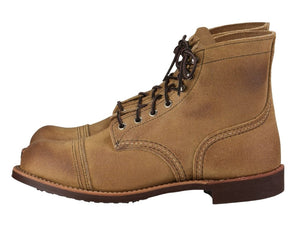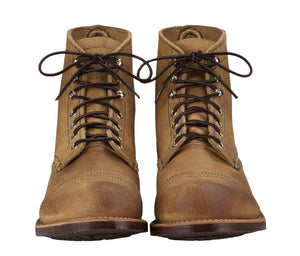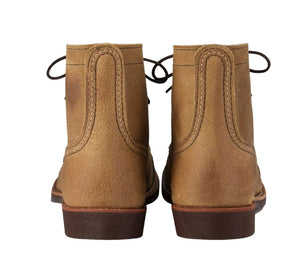 The Iron Ranger was originally built for iron miners in the 1930s. In the decades since, it has grown indispensable for owners from all walks of life thanks to its iconic style and longevity. The six-inch boot's signature feature is a leather toe cap that is as distinctive as it is durable. Each pair develops a personalized fit and custom comfort over time thanks to leather insoles and a cork midsole that form to feet. The boots are built with a Goodyear welt and Puritan triple-stitch construction, and brass speed hooks provide precision lacing and a visual hit of hardware. The Iron Ranger is anchored with a Vibram® 430 Mini-lug outsole.
A new pair of Red Wing Heritage footwear should fit comfortably tight on the foot, with enough room to freely wiggle toes. As you wear the footwear, the full grain leather upper, insole, and cork midsole will mold to your feet, creating an increasingly personalized fit over time. We recommend trying on footwear in store to ensure proper fit.
Materials Used:
Outsole - Vibram® 430 Mini-Lug
Construction - Goodyear Welt
Last - 8
Leather Type - Muleskinner 

Hardware - Nickel Eyelets & Hooks
Resoleable - Yes
Country Of Origin - Made In USA
SPECIAL NOTE:  Customers ordering multiple sizes of same style/model of footwear due to sizing uncertainty will need to contact us directly via email at shop@hudsonshill.com or by telephone during store hours at 336-833-5857 prior to us shipping your order.  Communicating with our staff results in improved sizing accuracy, reduced shipping costs/fees, makes your purchase as hassle-free as possible, and helps us to reduce returns.  Remember, our goal is to optimize your experience, whether in-store or online!