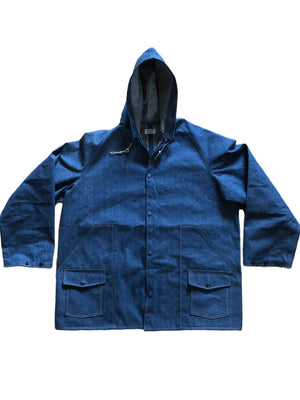 One of the newest pieces to arrive into the store is our Proximity Parka.  This outerwear jacket is constructed from dark tan filled left hand twill (LHT) 3x1 Proximity Denim using all single needle and overlock machinery.  Bartacked at every stress point, thoughtful details throughout, including hood, wrist closure, 4 pockets, drawstring stoppers, and a spill-proof hem, among so many other details. The denim is all pre-shrunk using a 1920's textile manual for boil-shrink method testing of fabrics, a 60-minute rolling boil and hang dry.  The raglan sleeve pattern and unique pattern, combined with adjustability features permit this garment to be a one-size fits most.  This has been on-body tested by wearers 5'3'' to 6'5''.
This item is the most sustainable product in our store.  The hardware is all NOS DOT fastener, the leather drawstring stoppers are all scrap from our store's scrap bin, the denim is all woven here at White Oak Plant in Greensboro by Proximity Manufacturing Company, and cut and sewn by Evan here in Greensboro at Revolution Mill.  When recently getting to pick an old farmhouse in SW Guilford County, several spools of original braided waxed cording were found, and so we decided to use this for the hood drawstring.  All of the thread was salvaged from the Garment Lab at White Oak when it went through closure in early 2018.  This has to have the best LCA score of any item Made in USA, bet your bottom dollar.  Even the denim has a story... as the second loom at PMC was getting tuned up for production, several yards had to be run while the center fork stop motion was getting nano adjustments, so bad start/stops and mispicks occurred.  Our thoughtful way of embracing a company motto coined by Greg, "No Seconds, Baby" is to use every scrap we can, and leave as little waste as possible, so we used the only roll of seconds ever woven by the Proximity team to make these parkas.  Please note that they are all unique because they may have a center fork loop, a bad start/stop, or mispick on a wrong take up tooth, but the denim is in no way durability compromised.  In fact, for the majority of the 20th century workwear found today, defects can be noted throughout.  These slight imperfections make each piece a unique work of art, and not just another cog.
This jacket is an ideal 3-season cover up, whether it is a cool evening at the beach this Summer, or a day to layer in Spring or Fall.  Wax it with a bar of Otter Wax for water resistance and it will take on a whole new life.  
As always, lifetime warranty on rips and hardware for denim we sell at Hudson's Hill.
Own a piece of history, today.
One size fits most.
 Sizing:
P2P (Pit to Pit): 25" Flat (50")
P2C (Pit to Cuff): 19.5"
Placket (Top to Bottom): 27"
Neck (Circumference): 20"
Cuff (Circumference):  7" Flat / 14"
Waist (Side to Side): 26" Flat ( 52")