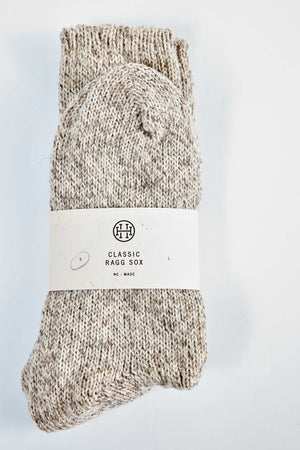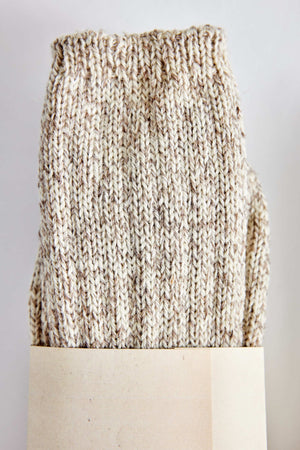 Made just for us in Hickory, NC, these Merino wool ragg socks are sure to be a hit for years to come.  The ribbed style is the hallmark of any ragg sock, and these marled yarn earthen tones match almost anything.  The two core colors of the yarn are a tan and a grey-cast off white, with touches of dark brown here and there.  The low gauge knit of the ribbed sock in these colors creates unique texture and provides ample softness when worn.  Merino wool is known for being a natural fiber with quick-dry properties, providing comfort throughout the day, even when worn with a pair of leather boots.
For 2023, we opted to make two different sizes, which we are calling Small and Large.  The small generally fits a Ladies 9-11, or a Men's 7-9, while the Large generally fits a Men's 10-13, or a Ladies 12-15.  
The socks come to us boarded, meaning they have been initially shrunk and shaped to a specific size board, or 2-D sock shape.  We put them through an initial cold wash and warm dry, allowing the sock to shrink into its true shape, from which it stretches to comfortably fit the general size ranges stated above, with some wiggle room due to the elasticity of the knit.  The cycle through the dryer softens them up, so they're not itchy the first wear.