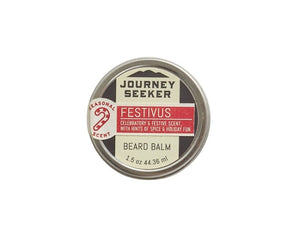 Beard Balm is a grooming product to tame wild hair and make it more manageable. The all-natural ingredients provide moisture as well as a seal to lock it in. It nourishes the skin and prevents hair from breaking or becoming brittle. Journey Seeker's beard balm can also be used as a solid cologne, lip balm, and hair styling agent. Packaged in a rugged 2 oz tin.
Festivus:
Celebratory and festive scent

Hints of spice and holiday fun
All Journey Seeker products are manufactured in Greensboro, NC. They are all-natural and allergen (GMO, soy, dairy, and gluten) free. Additionally, all products are made in America and are registered with the FDA.
One tin of beard balm will last up to 6 months depending on daily usage.

All-natural ingredients: Beeswax, Coconut Oil, and Natural Oils.

FDA registered.
Directions for Use:
1) Scrape or pull out desired amount.
2) Dissolve balm rubbing between palms and apply throughout beard.
3) Shape using hands, comb, or brush.
4) Look and smell sexy.