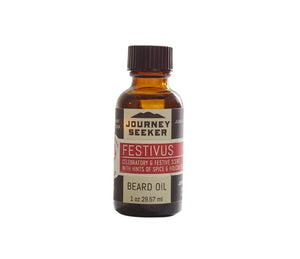 Festivus:
Celebratory and festive scent

Hints of spice and holiday fun
All Journey Seeker products are manufactured in Greensboro, NC. They are all-natural and allergen (GMO, soy, dairy, and gluten) free. Additionally, all products are made in America and are registered with the FDA.
Directions for Use:
1) Apply 3-4 drops on hand
2) Rub between palms
3) Apply evenly throughout beard.
4) Look and smell sexy.