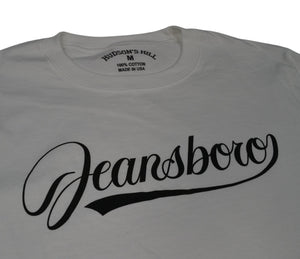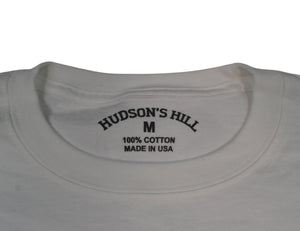 In 2015, one of our owners coined "Jeansboro" to nickname our city for its rich textile history related to denim.  For those who don't know, Greensboro has been home to denim and work clothing for 126 years, has been home to the world's largest denim mill and work clothing manufacturer, and in present day is home to globally-recognized textile companies and denim brands.  To us, Greensboro is the denim epicenter of the world, so we aptly refer to it as Jeansboro.  We are proud of this history, and pay homage to all those that have come before us and played a role in building Jeansboro into what it is today, through our collective efforts to weave, source, cut, sew, and sell USA-made selvage denim for the third consecutive century.
Fun Fact:  Did you know that our website is www.hudsonshill.com and also www.jeansboro.com ?
Earlier this year we expanded our staff and brought on Andrew Duke, a skilled graphic and digital designer, who was put to the task of coming up with a thoughtful font to capture the essence of the word in script.  He created a hand-drawn version, and patinated the artwork using rubber print block stamping techniques.  The finished graphic is modern with a hint of timeless, just like everything we do here at Hudson's Hill.
In our eyes, this shirt is a perfect representation of our locus civitas superbus, Latin for Local Pride, for our city, Jeansboro.  
Thoughtfully printed by us on a 100% ringpsun cotton t-shirt with a modern fit.