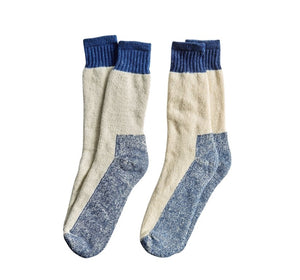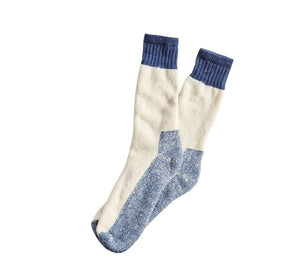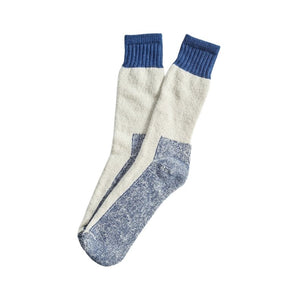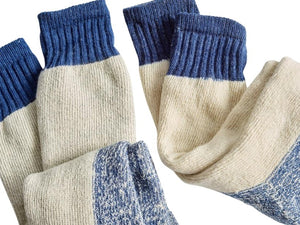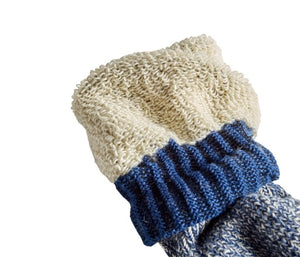 Summary
• 2 colors to choose from: natural/indigo, and grey/indigo
• Very Limited supply! Only 50 pairs of each weight were made.
• One size fits most (mens 8-13)
Details
Our Indigo Boot Socks are full cushion knit exclusively for us right here in NC in Davidson County on single-cylinder sock knitting machines.  We produced these in three colors several years ago, and they quickly became a staple for our store and brand.  This time around, we used some of our waste-free indigo dyed warp yarns to create a marled footbed and a ribbed ankle cuff, accents that make this uniquely ours. 
As always, the cotton yarns we used are unbleached, helping them have an immensely longer lifespan than bleached white socks you can find in similar styles.  The Indigo Boot Socks come in two colors, one has an off white or natural 100% cotton body, while the other has a natural off white and natural grey marled body. 
THESE SOCKS ARE RAW, UNWASHED OR CALENDERED STRAIGHT FROM THE SOCK KNITTING MILL, SO THEY WILL BLEED IF YOU WEAR THEM BEFORE SOAKING OR WASHING THEM SEVERAL TIMES-- WE RECOMMEND SOAKING OR WASHING AT LEAST TWICE BEFOREHAND!  Indigo yarns have a bit of residual dye that will wash off easily, so as not to bleed or transfer color onto other clothing articles and objects when worn.  They will age beautifully, and the indigo will fade with time, but we hope that they become beloved and worthy of darning when the time comes, many years from now.  
Colors:  Off-White (Natural) & Grey/Off-White (Silver)
Only 50 pairs made per color; each pair is individually numbered. One size fits most (mens 8-13).