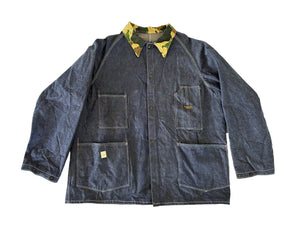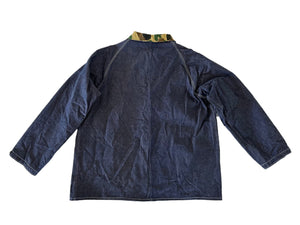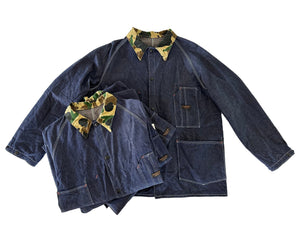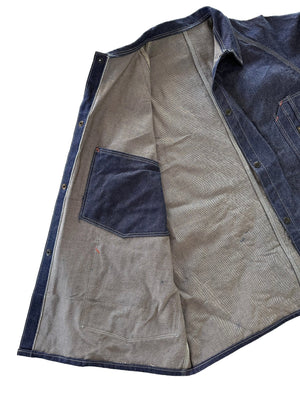 We aren't aware of another place in the western hemisphere where the same hands weave, cut, sew, and sell denim workwear.  This is as unique as it is iconically American.  Owning this coat, you'll be the caretaker of our story, and boy do we have a story to tell!
the backstory:
When tuning the second Draper X-3 loom over at the White Oak Plant for Proximity Manufacturing Company, one of our owners was tasked with disassembling, adjusting, replacing parts, and refurbishing one of the most sensitive components of a power loom:  the center fork stop motion.  The center fork raises and lowers as the shuttle passes side to side, filling the indigo warp yarns with weft.  As the shuttle passes, the forks are held up by the mere single strand of yarn along with a small clock spring, worthy of a grandfather clock.  Should the weft break, or during a quill change and the tails not hold in clamps on the loom side, these forks will drop into a slot in the track, causing a bar to knock the loom off, allowing the weaver to replace the missed filling to prevent an error in the cloth.  The adjustments were easiest to accomplish while running the loom to determine each change's success in restoring the stop motion's function.  The resulting cloth was and remains to be the only "seconds" produced to date over at Proximity.  
So, as denimheads and vintage afficionados, we thought this would be the BEST cloth to use for a production run of chore coats here at Hudson's Hill.  If you take a look at original examples of workwear produced during the first half of the 20th century, you'll notice errors in the cloth commonly called "loom chatter" or "zippers", which in fact are mispicks, bad start/stops, or missed fillings in the cloth that were likely caused by a poorly adjusted center fork, or is predecessor, the side fork, which only helped the weaver every other pass of the shuttle.  But, that is truly the beauty of workwear; clothes were made durably to work in.  We thought this would make one-of-a-kind, bygone era-inspired coats, and we think we hit a bullseye.  Please note, not every garment has a defect in the cloth, and no cloth was used where the durability of the cloth was compromised due to an error.
 The details:
The denim is a left hand twill 3x1 that weighs approximately 12oz loomstate, but we used a 1920's textile manual series of instructions for "boil-shrinking" the coats, removing most, if not all of the shrinkage typically observed with an unsanforized denim.  The resulting cloth weighs approximately 13.4oz per square yard, but since this denim is not like anything else in the marketplace, it is only stiff for the first one or two wears, and then almost immediately breaks in.  Recently, two members of our staff came across an early 1910's pair of buckleback Big Winston overalls, and immediately noticed they were made from left hand twill 3x1 denim, so we found this to be the most appropriate cloth to use for chore coats based on this historical tidbit encountered.
Diving into our vast vintage archive, we pulled a 1940's Auto Brand chore coat, constructed with a raglan sleeve, meaning there is no shoulder seam, and with the usual wide and roomy fit.  
In building the coats, we came up with a fascinating seam to use for the raglan sleeves and side seams, whereby we use a 3-thread overlock, serging the edges, then single needle lockstitch safety stitching the seam before flat felling on both flatbed and off-the-arm triple needle chainstitch machines.  While some would call this a flat felling, with three steps involved in each seam we like to call them ultralocked seams.  The goal is that a seam is achieved with one less layer than ordinary felling, two different machines are used for the edge lock, and it won't unravel if a stitch is ever picked.  
What makes this run slightly different than the standard denim coats is that our initial goal was to use some vintage tan corduroy upcycled from some vintage pairs of pants, but we accidentally cut the collars slightly too long, so instead of stitch-ripping the collars and sizing them down, we used a very small roll of 1970's duck hunter camoflauge chamois cloth.  Please note that when I boil-shrunk the coats I did not rinse them, so a few of the collars have a bit of blue indigo crock from this procedure, but it should wear off with use, or you can rinse it yourself when you get the coat.  They are quite unique with this style of collar, making them even more one of a kind!  
This first run of coats was built in two sizes, a Medium/Large and a Large/XL.  They are intentionally oversized, so they fit roomy in the chest and correct in sleeve length.  You'll appreciate it not lifting up and exposing your midriff when you raise your arms.  


Sizing Chart Coming Soon!