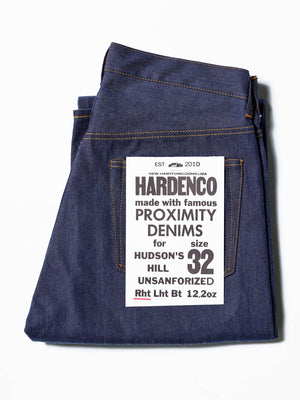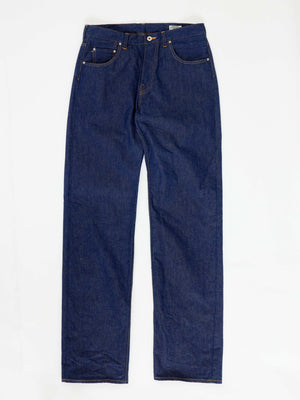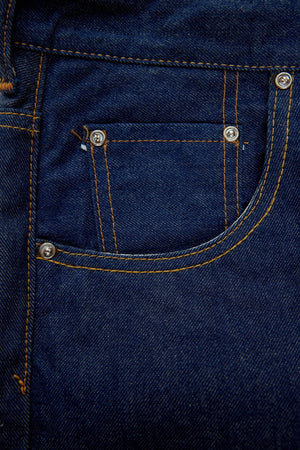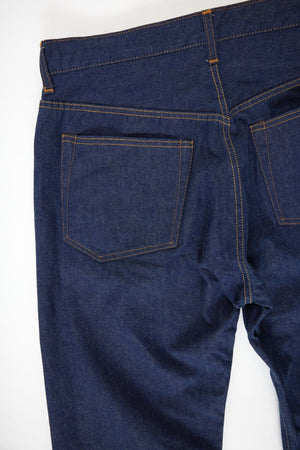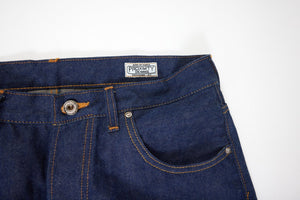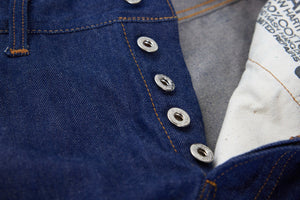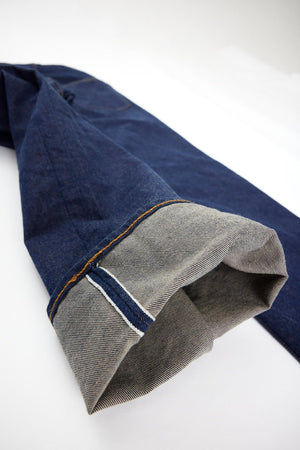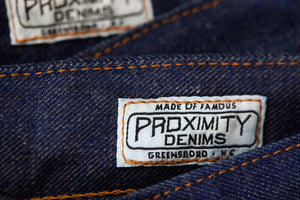 After a full year of developing and testing this exclusive product with our friends at HARDENCO, we truly believe that this product can only speak for itself. This jean is built using one of the original HARDENCO patterns first developed over 8 years ago. The 003 fit It is a high rise, full leg cut with the slightest taper toward the bottom, very similar to the style of iconic jeans commonly worn in the 40s and 50s. This pattern is based entirely on the nature of unsanforized denim, which loses a significant percentage of its volume when properly shrunk up into its correct fit.  Just like the old school days, we encourage the wearer to hop in the bath tub or hot shower with them on for 30 minutes, and then let them hang dry with no tension on the waistband.  We have done our homework, boil-testing every pair to confirm the math of the fabric shrinkage, so that it can be tried and true, worthy of your trust.  These jeans will be a staple offering of Hudson's Hill, produced exclusively for us by HARDENCO and always only made with famous Proximity Denim, woven right here in Jeansboro by Evan and his team at the old White Oak plant.
For the right hand twill model, we chose to pair this deep, inky cloth option with the most classic thread colors and steel hardware that isn't lacquer-treated, so the buttons and rivets will age over time, beautifully.  This pair is as American as all of the details can get, with nods to the Big 3 of industry, along with our very own combination of timeless hallmarks.  
Details:
-12.2oz per square yard unsanforized 3/1 right hand twill denim (13.4oz shrunk) woven with entirely USA-made materials on Draper X-3 shuttle looms by Proximity Manufacturing Company in Greensboro, NC.  This denim is our iteration of a popular style regularly produced 70-90 years ago at the White Oak plant using a dark grey filling yarn to deepen the indigo color in the warp face of the cloth.  
-Unlaquered Stainless Steel YKK USA donut buttons w/ WWII-era laurel wreath detail
-Unlaquered Stainless Steel YKK USA upside down sombrero exposed rivets w/ extra low profile
-Gold/Tan/Orange Perma-Core thread in heavy Tex weights for ultra durable seams and classic color pallet
-Double chainstitched outseam, like bygone era brands, for increased durability
-Front pockets and back pocket liner made from ultra durable tool-proof deadstock Cone Denim White Oak 12oz natural canvas, which has the same shrinkage as the denim, so that back pockets and pocket bags remain flat and unskewed through the shrink into fit process.
-Butterfly coverstitched beltloops 
-Hidden rivet back pockets for scratch-proof durability
-5-button fly closure
-All jeans come standard with a ~36-37.5" inseam intentionally, and we recommend they be hemmed to suit your proper, desired length when shrunk according to the instructions below.  
NOTE:  THIS PRODUCT IS UNSANFORIZED AND WILL SHRINK!
- Sized to fit the tagged size when shrunk properly.  Sizes 30-34 are graded 2" larger in the waist and 3.5" longer in the inseam, while 36-42 are 2.5" larger in the waist and 3.75" longer in the inseam.  This is the CORRECT size, we promise you can take our word for it. 
-To shrink jeans  into your proper size, you need only to put them on, button them up, then get into a hot bathtub or shower for 30 minutes, and then let them hang dry, and they will shrink to your approximate fit.  Hot tubs, heated pools, the ocean on a hot day in Summer also work.  We prefer and recommend the hot bathtub option.
-Free repairs for life, honored at both HARDENCO (New Hartford, CT) and Hudson's Hill (Greensboro, NC)
Sizing Chart:  All measurements are in inches.  Measurements are taken from raw, unshrunk pairs.  Where two number values are listed, the first is taken flat, while the parenthesized number is the doubled circumferential measurement.
| | | | | | | | | | |
| --- | --- | --- | --- | --- | --- | --- | --- | --- | --- |
|   | 30 | 31 | 32 | 33 | 34 | 36 | 38 | 40 | 42 |
| Waist: | 16 (32) | 16.5 (33) | 17 (34) | 18 (36) | 18.25 (36.5) | 19.25 (38.5) | 20.5 (41) | 21.5 (43) | 22.5 (45) |
| Front Rise: | 12 | 12.25 | 12.5 | 12.625 | 12.75 | 13.25 | 13.5 | 14 | 14.5 |
| Back Rise: | 16.5 | 16.75 | 17.25 | 17.5 | 17.875 | 18 | 19 | 19.25 | 20 |
| Hip: | 20.5 (41) | 21.25 (42.5) | 21.5 (43) | 21.5 (43) | 22.5 (45) | 23.5 (47) | 24.5 (49) | 25 (50) | 26 (52) |
| Thigh: | 12.5 (25) | 12.75 (25.5) | 13 (26) | 13.375 (26.75) | 13.75 (27.5) | 14 (28) | 14.5 (29) | 15 (30) | 15.5 (31) |
| Knee: | 9.75 (19.5) | 10 (20) | 10 (20) | 10.25 (20.5) | 10.5 (21) | 11 (22) | 11 (22) | 11 (22) | 11 (22) |
| Leg Opening: | 9.25 (18.5) | 9.25 (18.5) | 9.5 (19) | 9.5 (19) | 9.75 (19.5) | 9.75 (19.5) | 10 (20) | 10.25 (20.5) | 10.5 (21) |
| Inseam: | 40 | 40 | 40 | 40 | 40 | 41 | 41 | 41 | 41 |