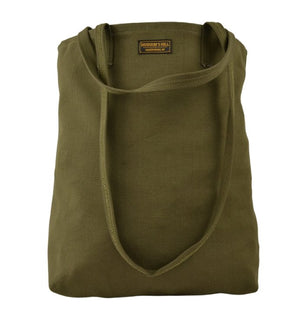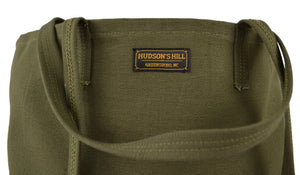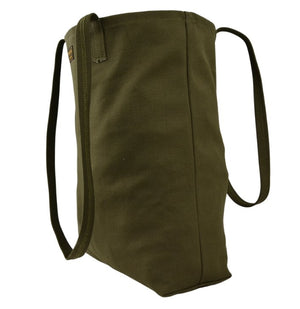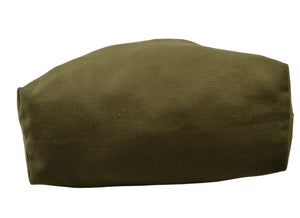 Presenting our OD Canvas tote, not too light, not too heavy, juuust right.  The perfect size for a day at the pool, beach, lunch in the park, class, or a trip to the grocery store and more!  

This bag is constructed by us using sturdy Vietnam-era Olive Drab Shade #7 Canvas, and a variety of heavy duty industrial sewing machines in the assembly process.  
The Assembly Process:
First, the body is seamed using a 4-thread Merrow overlock and A&E Tex-40 Permacore thread, covering the edges from fraying.  Next, the mouth of the bag is hemmed using A&E Tex-80 Permacore thread and a Union Special 43200G two thread chainstitch machine, commonly known as a bulldog hemmer, creating a roping effect like a vintage jean cuff, which becomes more apparent with wash and use.  Then, straps are created using A&E Tex-40 Permacore thread on a Union Special 51400 coverstitch machine and a butterfly style folder, commonly used to create beltloops for jeans.  The straps are attached with a Singer 241-12 lockstitch machine using A&E Tex-40 Permacore thread.  Lastly the straps are reinforced with bartacks to prevent detaching through use using A&E Tex-40 Permacore thread on a Singer 69-11.   


This perfectly matches our Dopp Kit, made using the same fabric.
The finished dimensions are 15" H x 12" W x 3" D with 28" straps.