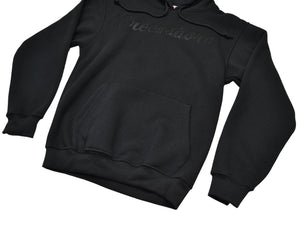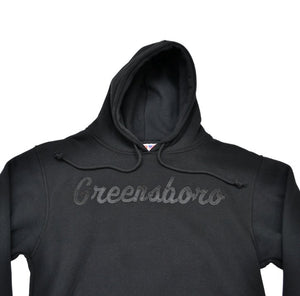 Who doesn't love a blackout edition of a best-seller!?  We took our in-house tackle twill embroidered sweatshirt, added a hood, and murdered it out.  But before you click buy, let's take a deeper dive into this mythical creature:
So, what the heck is tackle twill embroidery?  
Considered one of the most durable embroidery methods, and commonly seen on vintage collegiate and varsity clothing, tackle twill is a complex way to make a timeless look.  By definition, t
ackle twill is the application of custom-cut twill lettering onto a garment. Any shape, letter, or design can be custom cut from a sturdy twill material and then sewn down for the perfect aesthetic. The twill is then sewn around the edges using a zig zag stitch on an embroidery head so that each letter or shape is permanently affixed onto the garment.
Our classic tackle twill sweatshirt collection is built using a Bayside Made in USA 80% cotton/20% poly 9.5oz fleece base.  This sweatshirt is full cut and fits absolutely true to size.