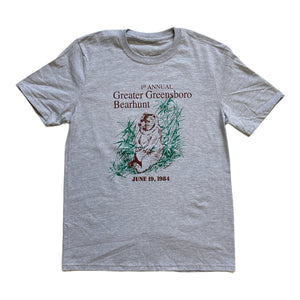 Inspired by a true story, we have accurately reproduced a graphic t-shirt to commemorate the "Greater Greensboro Bear Hunt."
A local family friend who gifted one of our owners the original shirt, and told us the following backstory:
On June 19, 1984 a bear was spotted in the College Hill neighborhood in the central part of the city.  A local resident phoned in and reported the sighting, and the Greensboro Police Department and other local officials took on the task of locating and capturing it.  Upon discovering the small bruin in a backyard on Walker Avenue, they managed to corner the bear in a backyard.  To their dismay, the backyard was filled with cannabis plants, all well on their way to full maturity.  The bear was tranquilized and loaded up for relocation to put back out into the wild, and the residential tenant was arrested for marijuana cultivation.  Shortly thereafter, a local artist drew artwork at the request of the local magistrate, Chuck Albertson, commemorating the event, and had t-shirts printed with this graphic, selling them at Hooray Harry's and Suds 'N Duds, local bars on Walker Avenue in the Lindley Park neighborhood.  
We printed these on a beautiful heather grey 100% ringspun cotton Made in USA t-shirt, with a classic fit.
Runs true to size.