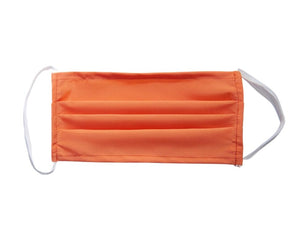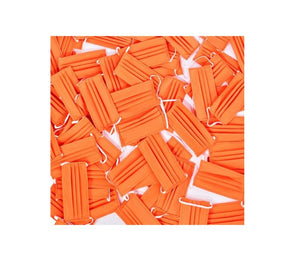 The same MAXIMA® AT Face Mask you know and love, now in a Safety Orange color option.
The MAXIMA® AT Breathable Barrier Face Mask is cut and sewn by us in Greensboro, NC using a 100% polyester woven medical fabric from Burlington®, which is constructed with non-linting fibers and a fluid repellent finish that creates a high-tech, breathable barrier material. The fabric is woven with air textured (AT) yarns for a natural, soft hand that provides comfort when worn. 3/16'' latex-free elastic from Asheboro Elastic Corporation is utilized to function as ear loops and this product is sewn with A&E Tex-30 and Tex-40 poly thread, making this product start-to-finish NC-made.
The breathable barrier nature of the fabric enables a single-ply construction and allows for the wearer to breathe through the fabric and not around it, while the barrier finish repels liquid and vapor.
This mask is reusable and will withstand up to 75 hospital-grade sterile wash cycles, or can be washed by hand at home with soap and warm water to prolong lifespan even further. So not only are you getting a premium product, you're also sending less waste to the landfill. Win-win!
Two sizes available:
S/M (7'' ear loop) - fits most people

L/XL (8'' ear loop) - for larger face shapes
This item not eligible for returns.