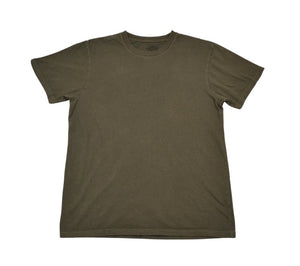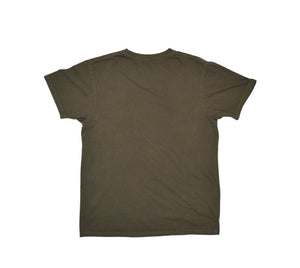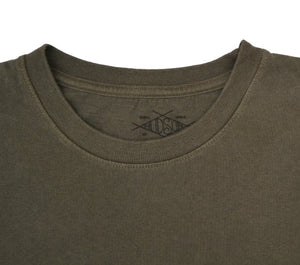 HOC x SSC Natural Dyed 10K Tee -- Basil
We've been working closely with our Burlington neighbors, TS Designs, for 10 years, developing a supplier of NC-grown and USA-made transparent t-shirts for our shop.  Introducing their first line of naturally-dyed t-shirts has been something we have waited a long time for, but patience has paid off. These limited-edition colors were made in collaboration with Seattle-based Botanical Colors using dyes derived entirely from plants, and paddle-dyed on sample ranges at a dyehouse in downtown Burlington. The incredible warmth and depth in these colors perfectly complement the softness of our 100% US-grown cotton tees.  The basil color, which we see as a perfect vintage O.D., comes from pomegranate and iron mordant, tinting to the perfect shade of green.  
The tees have a story of their own, as part of the 10K project that seeks to disrupt the way fiber to clothing is produced by removing the burden from the farmer, paying forward the profits to the people that work the hardest.  Eric Henry, owner of TS Designs, decided to go straight to the NC farmer and purchase 10,000lbs of cotton before it was planted, putting their money where their mouth (and vision for a better future) is!  We are major supporters of this project, now on its second lap as a 20K project.  To learn more about how you can support this type of manufacturing right here in NC, watch the video.
Each color is made in limited edition quantities, and these shirts are made with the most conscious supply chain on the planet.  Heck, we even traveled to Burlington and spent a full day in the dyehouse to help out with the natural dye process.  Buy your correct size, because they never shrink, and being made from ringspun yarn they take forever to wear out!  You won't be disappointed.