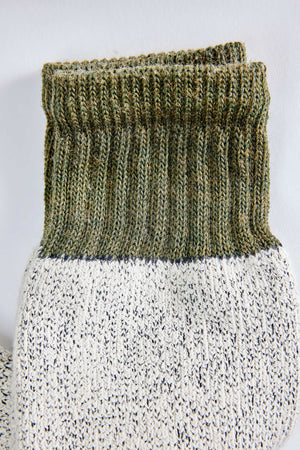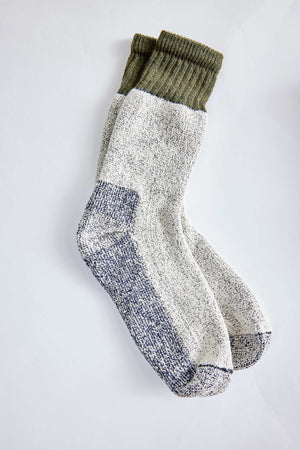 We started working with a local sock knitting mill almost a decade ago.  When we first met, they thought we were weird for requesting unbleached yarns, and also for wanting them boarded but unwashed.  
After explaining how bleach and peroxides erode yarn and also how finishing sprays wash down drains, by avoiding these, we can improve the impact and increase durability; creating goods with purpose is our mainstay.
But now, they know what to expect from us in terms of requests, and we get to make beautiful, 100% North Carolina made hosiery for the shop.
This iteration of boot socks took about as classic as it gets to another level.  We first ran an unbleached yarn and jet black combination about 6-7 years ago, but navy and green sounded not too bold, not too bland, but juuuust right to use this time around.  But together, and wool, in a three-color combination was what we all liked the most.
This Limited Edition Premium Boot Sock is now available in both color ways in two size options, a Women's 6-10 and a Men's 9-13 .  We say that because it has a heel, therefore it can fit a range of sizes, however we recommend the use for our Small (S) option for the former aforementioned, and the Large (L) option for the latter, in order to guarantee a good fit.
For just about anything, even if just around the house to keep warm, these are also a great addition to a pair of Red Wing Boots!
 Contents:  Cotton, Wool
Color:  Navy, Natural, Hunter Green
Sizes:  
S -- Women's 6-10 / Men's 4-8
L -- Women's 11+ / Men's 9-13