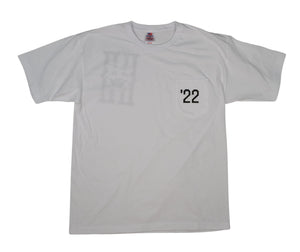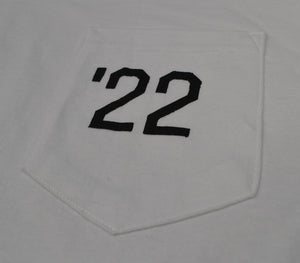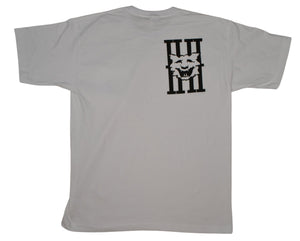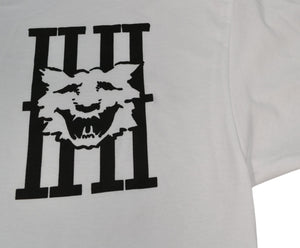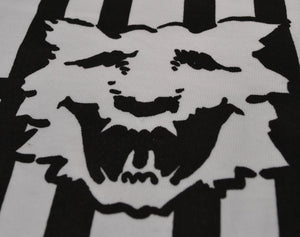 It has been a desire for several years to release a product that carried with it a story this deep, that is also accompanied by a membership into a social club of like-minded people.  This is a first for us.  We will work to augment this annual event concept, create new and inspiring artwork to capture each year that has yet to come, and hope that this can result, years down the road, in something that furthers our efforts to build community. 
We knew that a dozen jackets wouldn't nearly be enough, but we had to start somewhere and it was also in that very moment that we decided that entry shouldn't be just the expensive jacket option.  So, we ordered these classic-fitting USA-made ringspun cotton pocket t-shirts, and screenprinted the same prints onto them to create an economy-priced garment that offers the same membership invitation as the '22 Beer Jacket.
Next, we worked with our newest staff member, Andrew Duke, to create this year's stencil.  Click here to read the in-depth backstory for the 2022 design.  The part of the design concept that most inspires me is that, historically each year integrates the numerical year accompanied by a feature that describes a theme of that particular year.  We went a third step and integrated the store's initials into this year's design, which proved quite a task for Mr. Duke, and he sure was up for it.
Each garment purchased is accompanied by a membership card (signed and laminated like old NC licenses) and an invitation to attend to our 1st annual Hudson Overall Company Beer Drinking Club reunion party in December.
To read a more in-depth backstory on the history of Beer Jackets on the Goods With Purpose™ Journal, Click Here.
Sizes: Small - 3XL