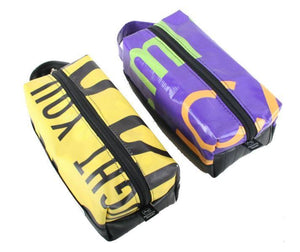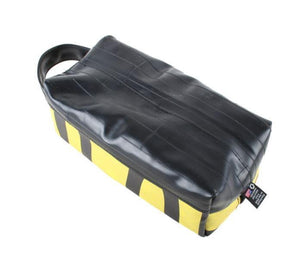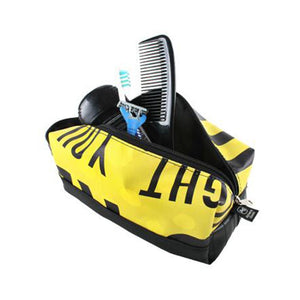 Made out of upcycled advertising banner, the Sand Point Travel Kit is a funky solution for a one-of-a-kind travel kit that no one else will own. 
Each Sand Point Travel Kit is a unique one-of-a-kind piece, please choose either WARM or COOL and we'll do our best to accommodate your request. Warm Travel kits will have either red, orange, and/or yellow as their predominant colors. Cool Travel Kits will have either blue/purple and/or green as their predominant colors. PLEASE NOTE: There is no guaranteed color/color combo!
Upcycled Banner, Nylon Teeth with Zinc Zipper, Nylon Fabric, Nylon Hardware
Made in Colorado, Built in the USA
Spot clean with a rag and warm, soapy water, or turn it inside out and machine wash on a gentle cycle with mild detergent. Hang to dry.
Dimensions: 8.5 L x 4 H x 4.5 D in.
Capacity: 157 cu. in. / 2.5 L
Weight: 7.5 oz.