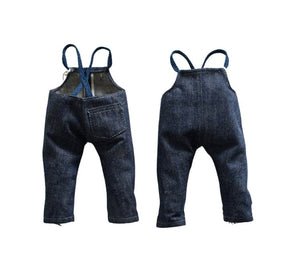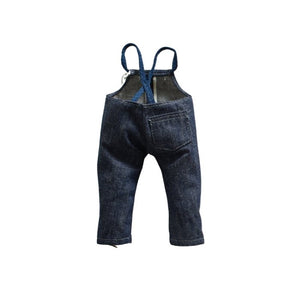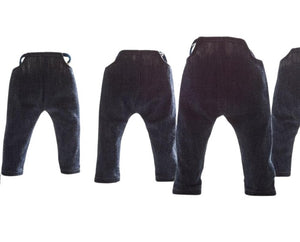 Salesman samples were one of the earliest tools brands implored the use of during the 19th and 20th centuries to push their overalls into the marketplace. These samples usually were small enough to fit into a briefcase or carpet bag, but for their size they bore most, if not all, of the materials found on full-sized pairs.
From our collection, we remade our favorite salesman sample overalls, using 12oz Cone White Oak denim that was collected from the mill after its closure. The pair we patterned was a 1920's Black Bear brand low-back overall, without side seams. Low-back was the term used to describe overalls that had a waist-height finish across the back of the wearer, and usually were furnished with a set of removable suspenders, that would fasten to the waist in the rear and the apron front panel on the chest. Overalls without outer seams were fairly common from the late 1800's through the 1920's, but felled outer seams became the industry standard shortly thereafter. The suspender material is flat knit-braid tubular lace that we had custom knit for us, using yarn-dyed indigo warp yarns, the same that can be found knit into our Indigo Warp Ragg Socks.
Single needle lockstitch construction throughout, using a 1920's Singer industrial sewing machine and Tex-40 Olive Drab thread, with backtacking at stress areas for reinforcement. Some selvage details can be seen in pairs, but these were all made with the small bit of fabric from White Oak that we found, so we optimized the yield, and thus no two are alike. These make a perfect gift for a denim aficionado or collector, a neat conversation piece about Greensboro's textile history, or an outfit for a doll, Christmas tree ornament, or rear view mirror hanger, it's really up to you!

Only 20 pairs made; each pair is individually numbered.