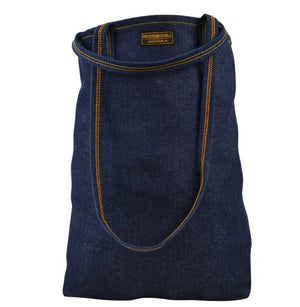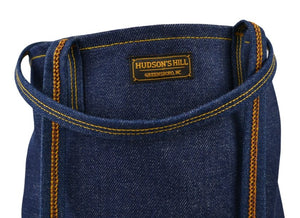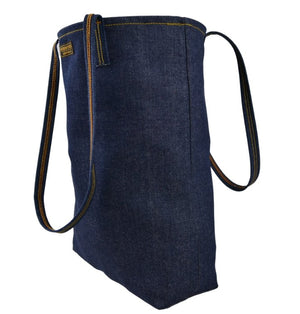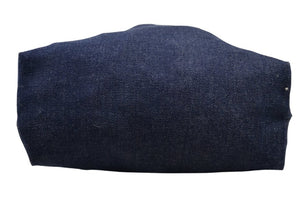 Presenting our classic denim tote.  The perfect size for a day at the pool, beach, lunch in the park, class, or a trip to the grocery store and more!  

This bag is constructed by us using sturdy 14oz Cone White Oak denim, and a variety of denim-specific industrial sewing machines in the assembly process.  
The Assembly Process:
First, the body is seamed using a 4-thread Merrow overlock and A&E Tex-40 Permacore thread, covering the edges from fraying.  Next, the mouth of the bag is hemmed using A&E Tex-80 Permacore thread and a Union Special 43200G two thread chainstitch machine, commonly known as a bulldog hemmer, creating a roping effect like a vintage jean cuff, which becomes more apparent with wash and use.  Then, straps are created using A&E Tex-40 Permacore thread on a Union Special 51400 coverstitch machine and a butterfly style folder, commonly used to create beltloops for jeans.  The straps are attached with a Singer 241-12 lockstitch machine using A&E Tex-40 Permacore thread.  Lastly the straps are reinforced with bartacks to prevent detaching through use using A&E Tex-40 Permacore thread on a Singer 69-11.  

This bag symbolizes all that is Jeansboro, the name we coined in 2015 to capture the essence of our beautiful city that was and is the denim Mecca of the world.  


The finished dimensions are 15" H x 12" W x 3" D with 28" straps.