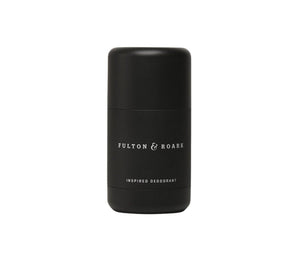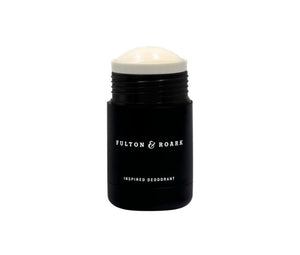 TL;DR 
Powerful aluminum-free deodorant with premium fragrance notes of Sandalwood, Sage, and Amber. 
Blue Ridge
Of all the fragrances in the world, few if any are as universally loved as Sandalwood. Our fragrance Blue Ridge is meant to highlight everything we love about Sandalwood. The warm and woody fragrance is accented with top notes of fresh Sage and smooth Amber, to create a fragrance that is both familiar and intriguing.
Clearwater
Notes of fresh water and oakmoss are complemented with hints of wood and clean citrus, combining to create a fragrance that reminds us of the Clearwater River in Washington state, rushing from the Olympic Mountains toward the sea.
Mahana
The F&R homage to Mahana is a celebration of fresh air, verdant hills, and driftwood. With notes of Pomelo, Coriander, and fresh green leaves, Mahana is clean, light, and remarkably approachable. Perhaps our freshest cologne to date, the fragrance feels crisp and pure, like a cool breeze on even the warmest of days.
Palmetto
The clean and citrusy top notes give way to pink pepper spice and magnolia flower, complemented with lingering notes of incense and cedar. This intricate fragrance is ideal as a Spring and Summer scent, but with its approachable complexity, it may just become your new year-round signature scent.
Sterling
The aromatic blend opens with warm and sweet tobacco, which gives way to smooth leather and is completed with notes of dark amber and vanilla. The resulting fragrance is assertive but not aggressive, possessing masculinity without machismo.
Refill timeline - Daily Use: 2 months
2.25oz / 64g
INGREDIENTS
Butylene Glycol, Water, Propylene Glycol, Sodium Stearate, Tapioca Starch, Saccharomyces Ferment, Propanediol, Steareth-2, Glycerin, Aloe Barbadensis Leaf Extract, Hamamelis Virginiana (Witch Hazel) Extract, Salvia Officinalis (Sage) Extract, Hydrated Silica (Diatomaceous Earth), Fragrance, Phenoxyethanol, Potassium Sorbate
From F&R:
First and foremost fine fragrance. At Fulton & Roark, if it doesn't smell fantastic, we're not interested. So, when we decided to create deodorants, we envisioned a product that did far more than prevent unpleasant odors. We wanted to offer high-performance deodorant that smelled as distinguished as our fragrance line. Like in our solid fragrances, we use only the finest essential oils, extracts, and fragrance ingredients to create truly inspired scents that you will be proud to wear, no matter the occasion.
In addition to our core commitment to fine fragrance, at Fulton & Roark, we don't bother making a product unless we can create something that offers something better than anything else we've found. As we started developing our line of deodorants, there were a few things we knew would be important to us:
We like deodorants that** exclude baking soda **from their formulas, due to its likelihood to cause irritation.
We appreciate the use of saccharomyces ferment, due to its natural odor-fighting properties and skin-friendly properties.
We paid attention to the deodorants that offered an easy, smooth-glide application.
We value packaging that is more sustainable than the status quo.
Once we defined our formula and packaging we found was that no one product did all of those things at once. That's when we found our inspiration.
Our new line of refillable deodorants is formulated to leave you feeling clean and smelling fantastic all day. They are made of ingredients you can feel good about, and the refillable packaging means that every time you purchase a refill, you're using about 85% less plastic than buying the status quo. You'll appreciate the easy-on application, with no strange colors or residue.