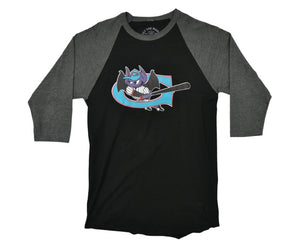 Exclusive to Hudson's Hill via another Greensboro-based business, Cut The Music Prints, we proudly present our homage to classic Greensboro minor league baseball.  'The Bats' was the name of the Greensboro professional baseball team from 1994-2004 when they were playing in their previous home in the old War Memorial Stadium.  A classic logo that brings back memories of hot dogs, wooden bleachers, and the ol' ballgame when we were kids, this was a no-brainer design for us to bring into the shop.  
The shirt base is a paper-thin, 3/4 sleeve raglan jersey, with a classic vintage feel.  Screenprinted with classic ink, so it will crackle and distress with wash and wear.  
Quantities are limited, so grab one for yourself or a friend!